What does it mean to tack down in sewing and how is tacking used? Find out with this guide.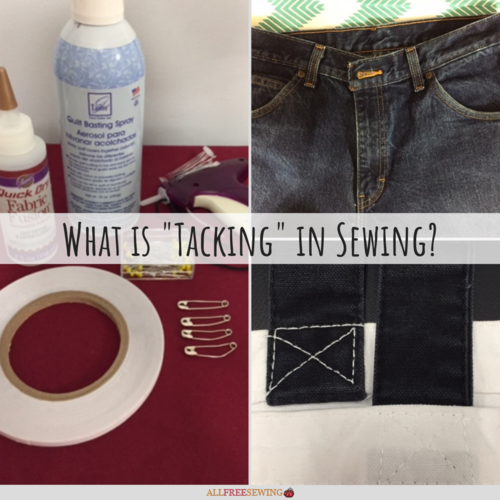 As sewists, there are several instances when we have to stitch more than two layers of fabric together, while constantly smoothing out the wrinkles from the layers.

But if we take the time to tack or baste these fabric layers, we will save ourselves this headache and actually, time.

So what is tacking in sewing? Tacking or basting has a few different meanings such as to fasten, to secure, to change the course of a sailing vessel, or to describe all horse riding equipment.

In sewing though, tacking or basting refers to temporarily holding several layers of fabric in place to prevent them from shifting while machine sewing.

Tacking can be done either by hand or by sewing machine. If it is done by hand, a special soft cotton thread is used that is easily removed without harming the fabric. If it is done by machine, a polyester thread and long stitches are used. 

Besides being a temporary stitch, tacking can also be used as a permanent stitch to reinforce stress points on clothing or accessories such as pet harnesses, handbags, pants pockets, zipper flies, and skirt and jacket vents.

There are several ways to sew a tacking stitch. Some common stitches are the running stitch, the bar tack stitch, and the tailor's stitch.

Furthermore, this guide will teach you the various applications of tacking such as to mark embellished fabrics, to baste darts and interfacing, to make gathering, and other usages. It will also familiarize you with alternative ways to tack your fabric without actually stitching it. 
Types of Tacking Stitches
What does a tacking or basting stitch look like? Below are some commonly used types of tacking stitches:
Running stitch (by hand or sewing machine): This is the most common basting stitch. It's a basic, straight stitch that looks the same on both sides of the fabric. Two common usages of the running stitch are darts, and seams for garment fittings. 
Diagonal basting stitch (by hand): This is a long slanted stitch, similar to a whipstitch, that tailors use to hold linings, interfacings, hems etc. during fittings. Quilters also use it to baste the quilt layers.  
Bar tack stitch (by sewing machine): This is a short length zig-zag stitch used to reinforce stress points on clothes such as on pants pockets and belt loops. Forward and backward short stitches create a dense tack as well. This stitch can be done on a home sewing machine or a pattern-tacking machine, according to Apparel Sources.
Cross-tacking stitch (by sewing machine):  In the sewing industry, cross-tacking is a box X-shaped stitch done by a pattern-tacking machine. Similar to bar tacking, cross-tacking is used to reinforce stress points such as webbing on pet harnesses or handbag handles.  
Arrowhead tack stitch (by hand): A triangle-shaped tack stitch mainly used to reinforce certain areas of clothing to prevent them from tearing such kick pleats and skirt vents. It is also a decorative stitch used in embroidery. 
French tack stitch (by hand or sewing machine): This type of tacking stitch is used to attach two pieces of fabric loosely together such as the lining of skirts and dresses. It is also used as a bra strap holder (explained by Itch to Stitch), where one end of the tack is secured on the shoulder seam and the other on a snap. 
Tailor's tack stitch (by hand): Tailor's tack is a series of loose looped hand stitches used to transfer markings from a paper pattern onto fabric such as darts, and pocket and buttonhole placements.
Applications of Tacking
There are myriad applications of tacking. To name a few, sewists tack fabric to: 
 Match plaids and patterns 
Reinforce stress points in clothes, sporting and farming equipment, accessories, and a multitude of other products
Create gathering 
Prepare muslin or calico for garment fittings (basting seams, set-in sleeves, waistbands, collars, interfacing, etc.)
Attach clothing labels or tags on sleeves 
Secure linings, hems, snaps, eyes, and hooks 
Install zippers
Prevent the fabric and batting layers in a quilt from shifting while sewing
When to Use Tacking
Sewists tack two or more layers of fabric to hold them in place. This way, the sewing machine will not push the fabric layers out of alignment. Tacking is great for beginner sewists who need to focus on machine stitching and not on sewing over pins. It is also an excellent method for experienced tailors and seamstresses who want to create couture garments.

Tacking is also used when the fabric is slippery or delicate and pins are not adequate; when the marking pencil or the tailor's chalk may leave a stain; when the pins or the tracing wheel may make holes on the fabric; and when sandwiching a quilt.
Alternative Tools for Tacking
There are times when a sewist cannot or will not want to use tacking stitches for various reasons. For example, the fabric may be embellished with beads and sequins, or it may be slippery and delicate like satin.

In such cases, a sewist may choose alternative tools to tack fabric such as pins, curved safety pins, small clips, spray adhesives, basting tape, glue sticks, rivets, or a tacking gun.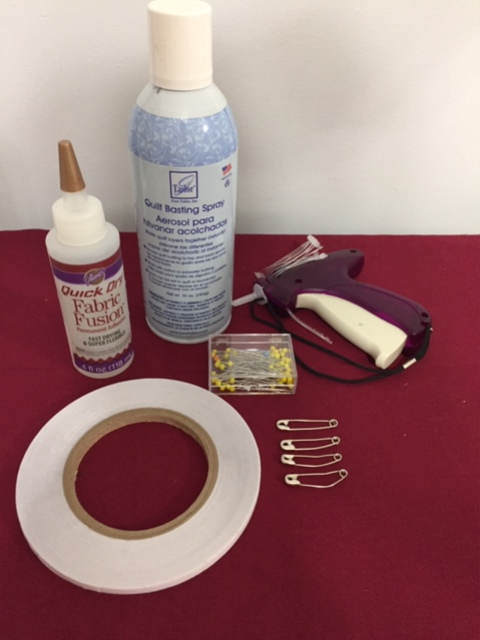 Conclusion
In conclusion, tacking or basting is an integral part of constructing beautiful clothing. This is what the makers of clothes had to do before the sewing machine was invented. Traditional bespoke tailors and seamstresses still use tacking to create high-quality garments.
Resources:
Here are some additional resources to teach you about tacking/basting stitches: